Are you looking for a new game to explore? If you're a fan of The Sims, then you've come to the right place. In this article, we'll be taking a look at the top similar games to The Sims 4.
From virtual world-building to life simulation, these games offer a range of different experiences that will keep you entertained for hours.
Read on to discover the top similar games to The Sims 4 and find your new favorite today!
Virtual World Building Games
Virtual world-building games are a great option for gamers looking for an experience similar to The Sims. These games give players the opportunity to construct and build virtual environments with ease. My Time at Portia and The Universim are popular games in this genre.
My Time at Portia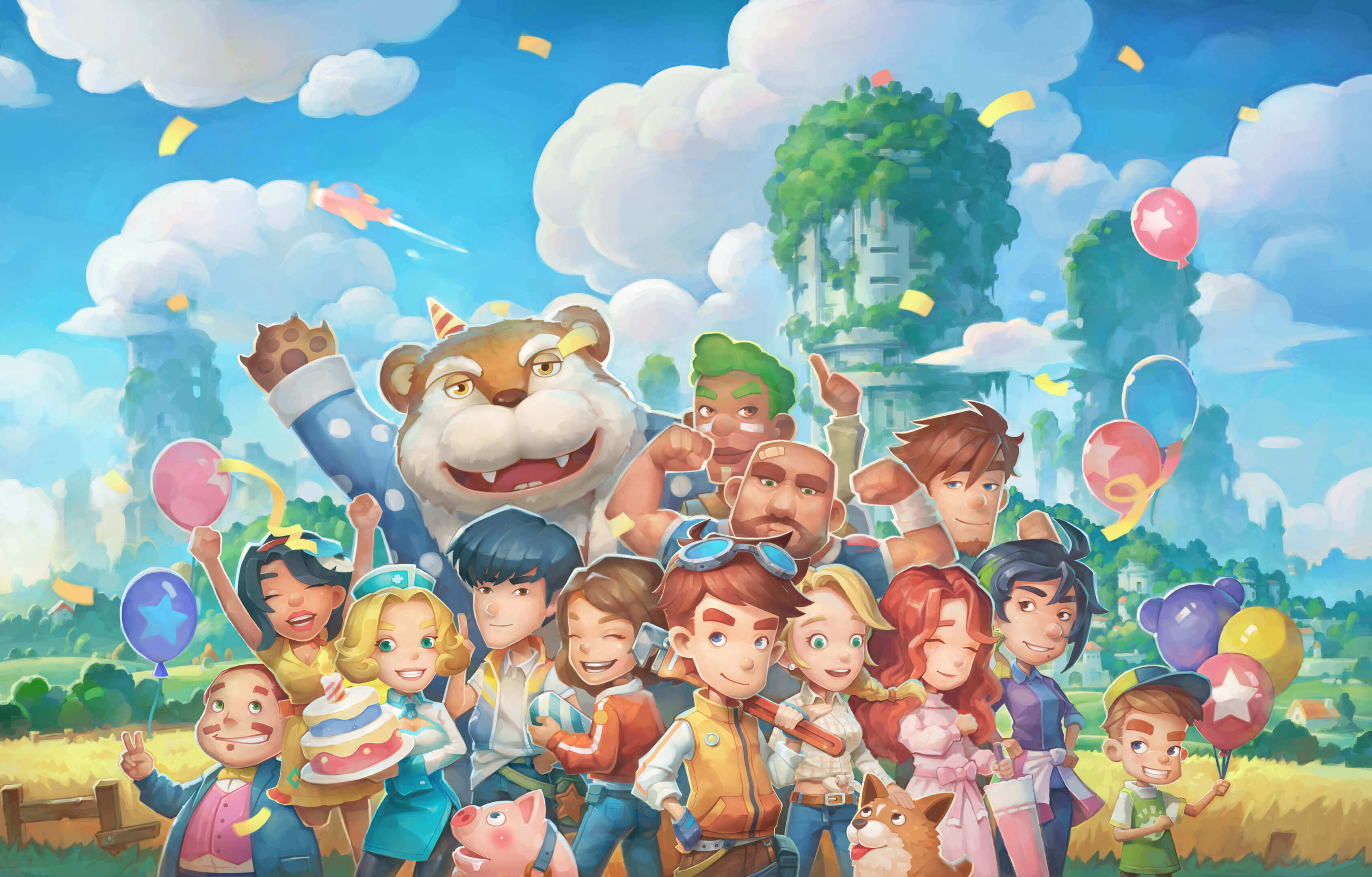 My Time at Portia is a charming game set in a world full of mystery and adventure. Players are able to build their own workshops, grow crops, and construct a variety of buildings.
There are also plenty of opportunities for exploration, as players can travel to different islands to uncover hidden secrets. The game also offers an immersive story, with plenty of interesting characters to meet and quests to complete.
The Universim
The Universim is another excellent virtual world-building game. Players are given control of a planetary civilization, with the ability to construct and manage cities, explore space, and research new technologies.
The game is designed to be open-ended, allowing players to choose their own path and objectives. As players progress, they will unlock new technologies and powerful abilities, giving them more options in how they play the game.
City-Building Games
For those looking to create their own thriving metropolis, a variety of city-building games can offer a similar experience to The Sims.
Cities: Skylines
Starting with the popular Cities: Skylines, this top-rated city-building simulator gives players the opportunity to build, manage, and expand their own cities from the ground up.
With its intuitive user interface and highly detailed visuals, Cities: Skylines allows players to construct a city that is as unique as they are.
Sim City
SimCity is another popular city-building game that has been around since 1989. Players must build and manage their own virtual cities, balancing each city's resources and budget.
This game offers a variety of scenarios for the player to choose from, and the diversity of the terrain allows for an incredible range of construction possibilities.
Anno 1800
Anno 1800 is the latest installment in the Anno series and combines the classic city-building gameplay of SimCity with a fresh, 19th-century setting. Players can build their own industrial empires while managing the politics and population of their cities.
Anno 1800 brings a unique flair to the city-building genre with its vibrant visuals and immersive environment.
Each of these games offers a great city-building experience for players. Whether they're looking to construct their own metropolis with Cities: Skylines or create a bustling industrial hub with Anno 1800, these games offer a similar experience to The Sims and provide hours of entertainment.
Business Simulation Games
If you're looking for a game that will let you build and manage a successful business, look no further than business simulation games.
These games allow you to design your own dream business and see how it fares against competing businesses in the game.
Many of these games require you to play multiple roles, from acting as a CEO to managing a team of employees.
Whether you want to be an entrepreneur or an established business magnate, these games will give you a chance to experience the thrill of success as you build and manage your own virtual business.
RollerCoaster Tycoon 3
RollerCoaster Tycoon 3 is an iconic business simulation game. First released in 2004, it has become a classic among fans of the genre.
The game lets you design and manage your own theme park with custom rides and attractions. As the game progresses, you'll also need to manage the park's finances to ensure success.
With over 200 rides, restaurants, decorations, and more, RollerCoaster Tycoon 3 offers hours of entertainment for fans of business simulations.
Project Highrise
If you're looking for a business simulation game that focuses on constructing and managing skyscrapers, then Project Highrise is the game for you.
This game allows you to construct and manage your own high-rise tower, from laying the foundation to creating a bustling business center.
You'll need to plan your tower's layout carefully to keep your tenants happy while also managing the financial aspects of the game. With a unique art style and engaging gameplay, Project Highrise will surely be a hit with fans of business simulations.
Automation – The Car Company Tycoon Game
As the title suggests, Automation – The Car Company Tycoon Game puts you in charge of a car company. You aim to design, build, and manage your car manufacturing empire.
The game allows you to design and develop your own cars and then manufacture them in a fully automated production line.
You'll also need to manage the finances of the company, including researching new technologies to improve production and efficiency.
This unique business simulation game gives you complete control over your car company and offers hours of engaging gameplay.
These are just some of the many business simulation games available. Whether you're looking for a game that lets you build and manage a theme park, a hotel, or an entire city, there's sure to be a game that will keep you entertained. Fans of The Sims will find much to love in these games, as they offer a unique and engaging way to experience the thrill of success.
Life Simulation Games
Life simulation games can be a great way to experience a virtual life without the risks of the real world. For fans of The Sims, many life simulation games offer similar experiences. From family-focused virtual worlds to business simulation games, these titles have plenty of similarities to the beloved The Sims 4.
Story of Seasons
Story of Seasons is a great life simulator that shares several features with The Sims. Players are able to customize their character's appearance and interact with the villagers and other characters.
As in The Sims, players have to manage their character's needs, such as sleeping, eating, and taking care of their hygiene. Story of Seasons also offers plenty of activities like fishing, exploring, and crafting.
Virtual Families
Virtual Families is another great game for Sims fans. Players take on the role of a virtual family and take care of their virtual home and family. Like in The Sims, players can explore the virtual world, design their houses, and interact with other characters.
Players also have to take care of the basic needs of their family members, such as providing them with food, keeping them healthy, and helping them to make the right decisions.
Journey of Life
Journey of Life is a game that emphasizes the decisions players make and offers a story-driven experience.
Players can design their characters and build a virtual home like in The Sims. However, the game's main focus is the decisions players make throughout the story, which will have a lasting impact on their character's life. Players will have to choose between different paths and make moral decisions that will determine their fate.
For fans of The Sims, these life simulation games are a great way to explore a virtual world and experience a unique story. From virtual families to grand strategy, these games have plenty of similarities to The Sims 4 and provide hours of entertainment. Whether you're looking for a family-focused experience or a grand strategy game, these titles have something for everyone.
Grand Strategy
For The Sims fans drawn to the challenge of developing and managing a civilization, grand strategy games are the perfect alternative.
Grand strategy games allow players to take control of vast empires and manage their economic, political, and military power. These games will test a player's strategic skills and resource management abilities and provide hours of engaging gameplay.
Civilization VI
Civilization VI is the series's most popular grand strategy title, providing an expansive world-building experience.
Players can lead their civilizations through the ages, beginning in the Stone Age and advancing to the Information Age. Along the way, they must manage resources, form diplomatic relationships, and wage war against rival civilizations.
They can also unlock powerful Wonders of the World, such as the Great Library or the Apollo Program, and make their civilization the most powerful in the world.
Tropico 5
Tropico 5 is the latest installment in the Tropico series and is a great option for The Sims fans looking for a new experience.
Players take on the role of a powerful El Presidente and are tasked with developing their own unique Caribbean island.
They are able to construct buildings, manage resources, and develop diplomatic relationships with other nations. The game also includes advanced features such as an ideology system and unique monuments that can be built.
Foundation
Foundation is a captivating medieval city-building and grand strategy game.
As the ruler of a small settlement, you have the power to shape the destiny of your people and guide them toward prosperity.
Foundation immerses players in the medieval era. From constructing roads to placing buildings, you have the freedom to create a town that aligns with your vision and the needs of your citizens.
Resource allocation is crucial, as you must ensure a steady supply of food, materials, and goods to meet the demands of your growing population.
The game also emphasizes social dynamics, allowing you to foster a harmonious community by providing amenities, managing trade routes, and building relationships with neighboring towns.
Foundation's historical accuracy extends to its architecture, social hierarchy, and technological progression. As you advance, you'll unlock new technologies that enable the construction of more advanced buildings and monuments.
The active modding community adds further customization and replayability to the game, providing a wealth of user-created content.
Grand strategy games provide an engaging and challenging alternative to The Sims and are well worth a try for fans of life simulation and virtual world-building.
With their deep and complex systems, these games offer a unique gaming experience that is sure to provide hours of entertainment.
Sandbox
When it comes to sandbox games, few are as beloved as The Sims 4. This genre of the game allows players to create their own world, experiment, and craft new objects. While it may not be as popular as city-building or life-simulation games, plenty of great sandbox games are perfect for those looking for something similar to The Sims 4.
Minecraft
One of the most popular sandbox games is Minecraft. This game has become a phenomenon over the years, and for a good reason. With Minecraft, players can build and explore their own virtual world alone or with friends. The game also features a unique crafting system that allows players to create a variety of objects.
Starbound
Starbound is another great game for fans of The Sims 4. This game allows players to explore a vast universe filled with different planets and environments. Players can build and customize their own ships and explore distant galaxies. They can also craft their own weapons and armor to battle alien creatures.
No Man's Sky
No Man's Sky is an open-world exploration game that takes sandbox gaming to the extreme. With No Man's Sky, players can explore a universe of trillions of planets, each with their unique environment and creatures. Players can also create their own bases, craft items, and build vessels to explore the galaxy.
These games all provide a unique opportunity to explore, build, and craft on a much larger scale than The Sims 4. Whether you're looking for something to keep you busy for hours or simply want to explore the wonders of a virtual universe, these sandbox games will surely provide you with plenty of entertainment.
Other Genres
A wide range of other genres may appeal to fans of The Sims.
Stardew Valley
Stardew Valley is an indie action-adventure and role-playing video game. It has you taking on the role of a farmer who inherits a farm in a small town.
Your goal is to restore the farm to its former glory by planting crops, raising animals, crafting items, and interacting with the various characters in the game.
The game also offers a variety of activities to engage in, such as mining, fishing, and foraging. Stardew Valley appeals to fans of The Sims thanks to its focus on managing resources and building relationships with other characters.
Farming Simulator
Farming Simulator is a simulation game that allows players to create and manage their farms. You will need to manage all aspects of your farm, from planting crops to selling produce.
You'll also need to manage your finances and purchase new equipment as you progress. The game features realistic graphics and detailed models of various farming vehicles.
The game also offers various online and offline competitive modes. This makes Farming Simulator a good choice for fans of The Sims who want to manage their own farm.
Animal Crossing
Animal Crossing is a life simulation game with you living in a small village populated by anthropomorphic animals.
Your goal is to create a happy and prosperous society by engaging in activities such as fishing, bug catching, and decorating your house.
You can also interact with the other villagers and build relationships with them. Animal Crossing offers a lighthearted and charming experience, which will appeal to fans of The Sims.
Each of these genres offers its own unique experience that may appeal to fans of The Sims. Whichever game you choose, you're sure to find hours of entertainment.
Enjoy These Engaging Simulation Games like The Sims
If you're a fan of The Sims and enjoy the immersive world of life simulations, these 20 engaging games similar to The Sims will provide you with countless hours of entertainment and creativity.
From farming in Stardew Valley to building a tropical paradise in Tropico 6, each game offers a unique twist on the genre, allowing you to shape the lives of virtual characters and create vibrant virtual worlds.
Immerse yourself in their rich worlds, unleash your creativity, and get ready for countless hours of enjoyment as you embark on virtual journeys filled with endless possibilities.