Having your own Minecraft server is a better way to play Minecraft when in multiplayer mode. There are a number of companies providing free or paid Minecraft server hosting services, one of which is Aternos.
In this post, we are going to talk about everything you need to know about Aternos Minecraft servers.
What is Aternos?
Aternos is a leading game server hosting service headquartered in Bonn, Germany. Aternos has been providing services for millions of Minecraft players worldwide since 2013. Currently, Aternos boasts almost 78 million users with 1 million players every day.
But what exactly is a server? Servers are high-powered computers that provide services to other computers. They are used to store, process, and manage network data, devices, and systems.
In this case, Aternos owns the servers and lets other people use them for free. Aternos make money through ads that are displayed on their servers.
What is a Minecraft Server?
A Minecraft server is a player-owned or business-owned multiplayer game server specifically for use in Minecraft gaming.
How To Create A Free Minecraft Server in Aternos?
Creating an Aternos Minecraft server is very easy. Here are the steps to create a free Aternos Minecraft server.
Open Aternos.org on your browser.
Click on the Play icon on the screen.
You will be taken to a sign-up page. Click Sign-up.
Choose a username and agree to the Terms of Service and Privacy Policy. Click Next.
Enter your email address (optional) and your password. You will be taken to your dashboard immediately after signing up.
Click Create Server.
Choose Java or Bedrock. Then hit create.
How to Connect to Your Server
Run Minecraft.
On the Main Menu click Multiplayer.
Click Add Server.
Name your server and then type in the server address.
Click Join.
How To Start Your Server in Aternos?
Click on server on the left side of the screen and then click on start. Accept EULA and your server will start up.
How to Install Plugins on Your Server?
Install server software for plugins. On your control panel click on software.
Choose the server software you want (Paper, Spigot, Mohist, or Glowstone). Click the version of the software that you need and then click install.
Once installed, a plugin option will appear on the control panel. Click on it.
Search for the plugin you want to install in the search bar or choose among the options.
Click on the download icon of the version that you want to install.
Start your server to start configuring your plugin. Click confirm and wait for the config files to be created.
What are the Features of Aternos Servers?
Creating your own Minecraft server on Aternos is totally free. It lets you use your own domain to connect to your server. You can also play with as many friends as you want without unnecessary slot limitations.
It also allows its users to install Mods and Plugins, which can configure the way its users experience Minecraft. Aternos also features a real-time console, DDoS protection, custom worlds and Automatic backups.
Is Aternos Safe?
Aternos comes with DDoS protection to keep you safe from cyber attacks.
Does Aternos Allow Custom Plugins and Mods?
Aternos doesn't offer access via FTP or the ability to upload custom mods/plugins mainly for security reasons.
Plugins or mods uploaded to your server might contain suspicious software code–this might be a bot or a type of virus which is then executed in the hardware environment of Aternos. Although your server will be launched in a protected environment, it may still be possible for someone to try to bypass the limitations set by Aternos.
Does Aternos Accept Plugins/Mods Suggestions?
Aternos may consider plugins and mods suggestions if they meet the following requirements.
Mods and plugins must be hosted on a supported website. The supported websites include curseforge.com, dev.bukkit.org, spigotmc.org, poggit.pmmp.io, and modrinth.com. Supported websites for modpacks are curseforge.com, atlauncher.com, technicpack.net, and feed-the-beast.com.
Suggestions should have reasonable popularity.
Suggestions should still be actively developed and receive updates regularly. If a suggestion has been discontinued or is only available for very outdated Minecraft versions, it won't be added.
Suggestions must be downloadable directly from a supported website. If the suggestion links to an external downloads page, it can't be added to Aternos.
Only mods/plugins that are available for free can be added to Aternos.
Modpacks need to provide server files for their pack and must be distributed using the supported platform.
Can I Run My Server 24/7 in Aternos?
There is no timer set per server but Aternos do stop empty servers without players. They do this to allocate resources to other people who are using Aternos. As the service is free and there are many users around the world, the company cannot serve all users at the same time.
That said, many users have come up with hacks to keep their servers running 24/7 but Aternos is doing its best to stop such attempts.
How to Install Mods on My Server
Only mods listed on CurseForge or Modrinth can be installed on Aternos. Here's how to install mods on Aternos.
Install Forge or Mohist on your server. Forge is the server software that is necessary to load mods on your server. Mohist is an alternative to Forge.
Install mods on your server. Aternos has a list with lots of different mods from CurseForge and Modrinth.
Install dependencies on your server. Some mods need other mods to work. These are called dependencies. The dependencies are listed on the Aternos mod list, but sometimes you have to take a look at the mod descriptions to find all dependencies.
Install Forge on your computer. Most mods have to be installed on both, the server and the computer of every player. You can download the Forge installer here: https://files.minecraftforge.net/ (If you use Mohist on the server, you still use Forge on the client)
Install mods on your computer. Download all the mods, that you've installed on your server and put them into your mods folder (inside the .minecraft folder).
Start Forge on your computer. Start your Minecraft launcher and select the Forge profile, which was automatically created by the Forge installer.
Start Forge on your server.
Connect to your server.
Can I Share Access to My Server in Aternos?
Aternos allows you to share your server with your friends without giving them direct access to your account.
To grant a friend access to your server, enter your friend's Aternos username into the text box on the access settings page and click the plus sign. Then set the permissions that you want to grant your friend.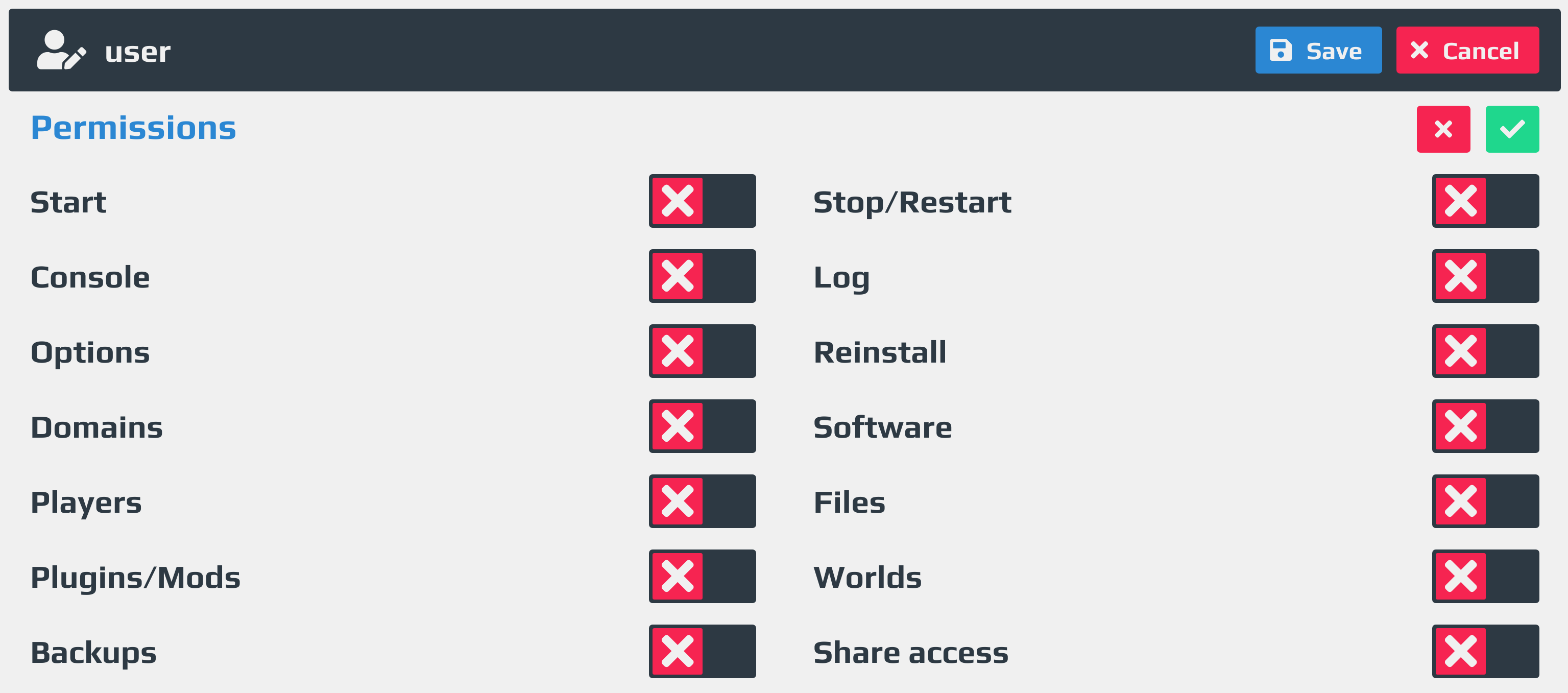 Note that changes made to your server by your friends are irreversible so only add friends that you can trust.
What is the Maximum Allowed Server Size in Aternos?
Each server is limited to 4 GB of storage space. If you reach this limit, you won't be able to start your server.
If you exceed your limit, you need to delete some files on your server such as your unused worlds, mods and plugins.
What is the Player Limit in Aternos?
Aternos did not set a player limit. But keep in mind that the more users play on your server, the more resources your server needs. Too many players can cause your server to lag or crash.
Related Questions
What are the alternatives to Aternos? Minehut, FreeMCServer.net, and Minefort also provide free Minecraft server hosting services.
What is the difference between free and paid Minecraft server hosting? Paid Minecraft server hosting service won't have ads since the customers are paying for the service. They may also offer more features compared to free server hosting services like larger storage.